Interest rates have been the tail that has been wagging the asset prices dog for the last few quarters. What is the Fed/RBI going to do is being discussed on stock chatrooms.
As the interest rate stance of Central banks, in turn, is determined by inflation numbers; inflation has suddenly moved out from the backroom economists' chatter to mainstream market commentary. I have rarely seen inflation numbers being watched with so much focus in my three decades of tracking markets.
This week inflation numbers came out for both India and the US for the month of January.
Detailed analysis below, but the short point is that inflation continues to remain higher than where Central bankers would like it to be - both the headline number and the net of food and fuel, 'core' number.
The recent inflation print is unlikely to bring any good news for the market watchers.
India CPI Update
India's headline Consumer Price Index (CPI) inflation came in at 6.52% year on year (y/y), a 3-month high, vs 5.92% expected, for January. So there has been no real moderation in the numbers.
As had been pointed out earlier, last month's somewhat lower figure was solely due to the drop in food prices, specifically vegetables.
In the latest numbers both the CPI inflation excluding food and CPI inflation excluding food and fuel, the so called core CPI, remains well above 6% that is well beyond not just RBI target inflation of 4% but also its tolerance band of plus minus 2%, which ends at 6%.
This points towards interest rates remaining higher and for longer. The inflation numbers do not provide any leeway to the RBI to stop tightening anytime soon.
Now for the details
Of the 0.46% month on month (m/m) ie January 2023 over December 2022 increase, 0.21% was contributed by food inflation alone with Cereals (+2.6% m/m) & Vegetables (-3.7% m/m) witnessing wild swings.
Clothing & Footwear inflation remained high with m/m annualized number at 5.4% and y/y at 8.8%.
Housing inflation jumped significantly in January with a 0.8% m/m print or 10.3% annualized while y/y remained close to mid-point of 4.6%. If this is not a one-off, then housing inflation will need to watched closely.
In Miscellaneous, Household goods & services, Health and Personal Care remain stubbornly high both on y/y and m/m annualized basis.
When we consider CPI ex-Food it stands at 5.74% m/m annualized or 6.71% y/y, while CPI ex-Food and Fuel & Light stand at 6.60% m/m annualized or 6.11% y/y.
Thus, given that both these measures, which exclude volatile items, remain above or close to 6%, the odds of the RBI delivering another rate hike at the next meeting should increase. Higher (rates) for longer will be the case for the RBI (just as for the Fed), unless and until we see evidence of core inflation receding.
In Government Securities, India 2Year yield currently trades at a cycle high of 7.2% which was hit in Oct 2022 even as the 10Y trades sideways at 7.34%, much below its cycle high of 7.62% hit in June 2022. As you are aware, Government securities or bond prices fall, as yields or interest rates go up.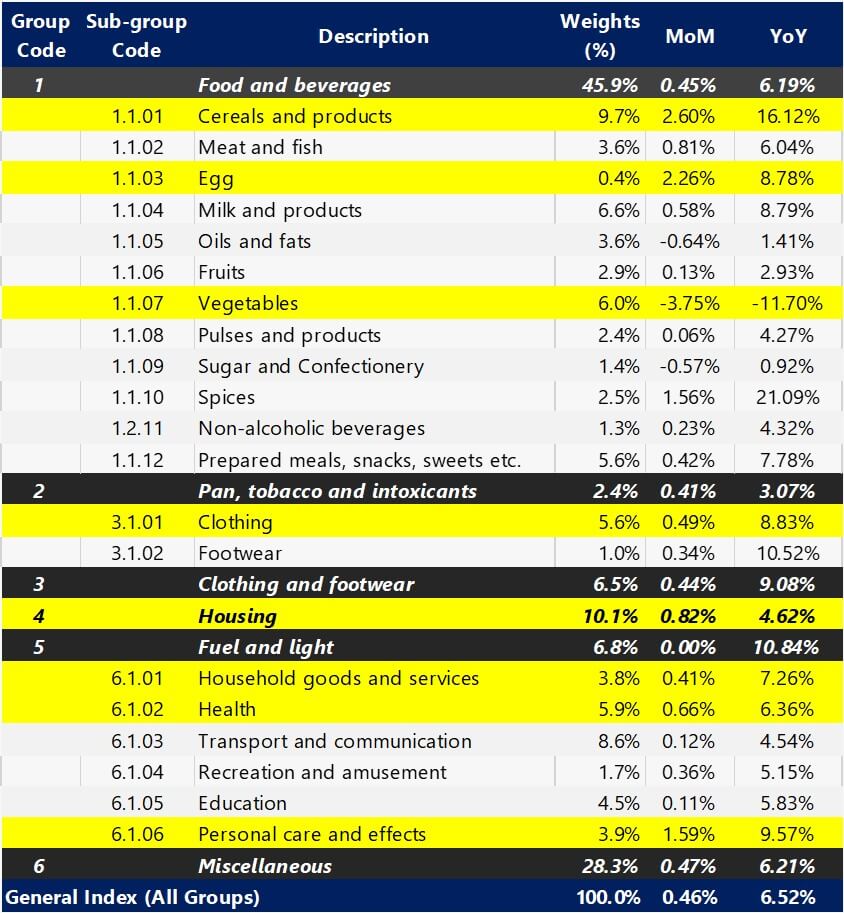 Source: Ministry of Statistics and Programme Implementation (MOSPI)
US CPI Update
US headline and core inflation came bang in line with estimates on a month-on-month basis, however, they it was higher by a small margin on the year-on-year numbers which could probably be explained by the impact of the revision in Index component weights.
As the stacked graph shows, the big component currently of inflation is services inflation excluding shelter inflation. This as remain persistently high even as goods inflation has moderated.
Core services ex-shelter inflation seems to be of primary importance given that goods inflation has already receded quite a bit. The trend here seems to be lower on a 3-month annualized basis but still remains quite high at close to 4%, which is consistent with wage data where wages have risen 5% on a 3 month annualized basis. A slowdown in jobs data should aid in bringing down this stickier portion of inflation, however, based on the latest jobs data release that doesn't seem to be the case yet.
Looking at other components, while shelter inflation remained high at 0.7% m/m & 7.9% y/y, we are well aware that this component comes with a significant lag and that the market-based housing price/rent indices have already started showing negative m/m prints which should begin reflecting in CPI from this summer.
Elsewhere, Apparel inflation surged the most since Sept 2021 (+0.8% m/m), but it could easily be a one-off thing as the trend remains lower. Meanwhile, Used cars & trucks inflation surprised to the downside (-1.9% m/m) given that the Manheim Used Vehicle Value Index released earlier rose 2.5% m/m in January.
In a nutshell, inflation remains in a downward trajectory. However, we would need to see a considerable slowdown in the labor market and hard economic data to get core services ex-shelter inflation to more sustainable levels to justify a lower peak Fed Funds rate than is currently priced in.
As against the current Fed interest rate of 4.5 to 4.75%, the market is pricing in a peak rate of 5.27%.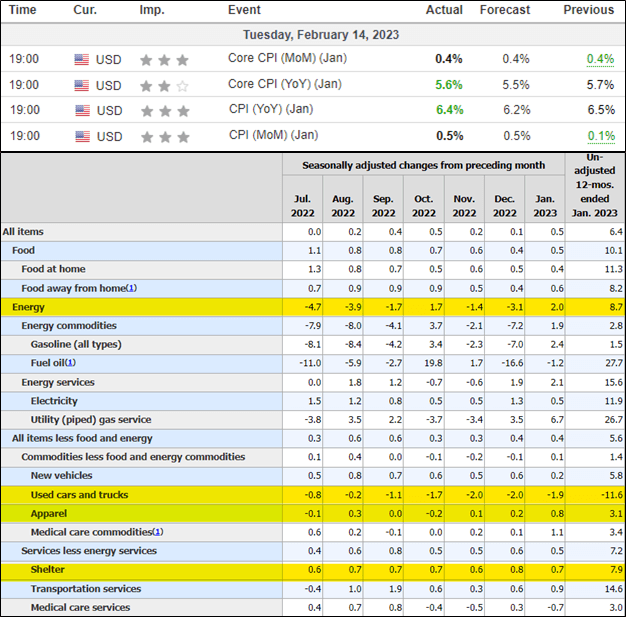 Source: U.S. Bureau of Labor Statistics, investing.com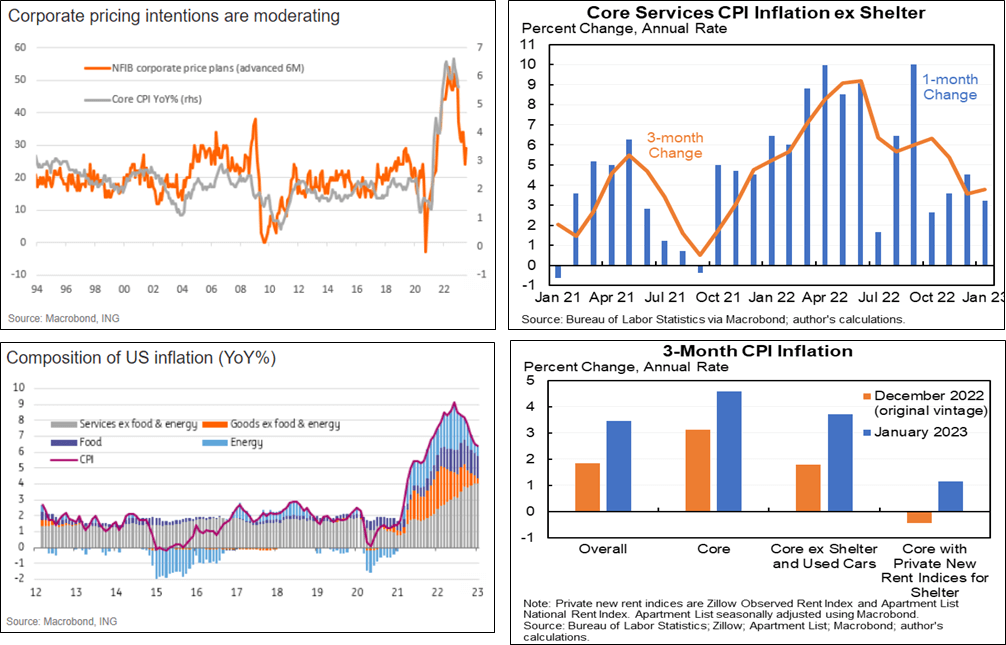 To recap, inflation remains above comfortable levels both in India and in the US which means that the RBI and the Fed are likely to continue to raise interest rates and are unlikely to reverse direction in hurry even when peak rates are reached.
Therefore relief from this angle is unlikely to be forthcoming for the markets.
From the desk of
Devina Mehra
If you want any help at all in your wealth creation journey, in managing your Investments, just drop us a line via this link and we will be right by your side as your wealth advisor, super quick!
Or WhatsApp us on +91 88501 69753
Chat soon!